Hammond M3 with Leslie 145 for sale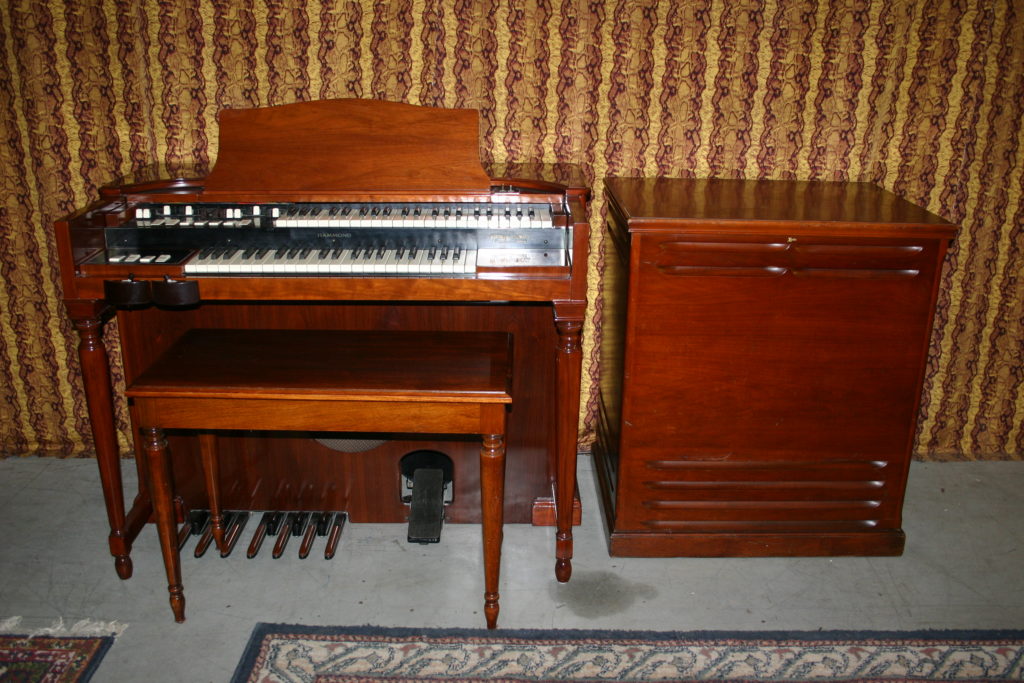 The Hammond M3 is a spinet version of the B3. This one's built in 1958 and is mated with a gorgeous Leslie 145. Both are pretty good looking, the M3 even has a complete refnish, a real killer-combo!
Hammond and Leslie are both fully rebuilt for around €2.500,- total and are technically as good as new. Besides making both organ and Leslie fully fuctional, the following has been done to guarantee a perfection functioning combo:
Hammond M3
– Oiling tonewheelgenerator
– Fix small defects
– Replacing keyboard felts white keys and silencing black key felts
– Cleaning keys
– Cleaning drawbarcontacts and contactrails
– Replacing tonewheelgenerator and vibrato line capacitors 
– Replacing tubes AO29 amp 
– Replacing electrolytic capacitors AO29 amp 
– Small rebuild AO29 amp (only some essential caps and resistors)
– Check and fix all ground connections
– Clean inside of the organ
– Adjust expression pedal
– Percussion volume correction
– Vibrato brilliance correction
– Installing Leslie 147 kit with half moon switches
– Everything elso to make sure the Hammond functions 100%
Leslie 145
– Mechanical rebuild: All new rubber grommets, O-rings and rotor bearings. All moving parts will be disassembled, cleaned and lubed, which will make the Leslie operate quietly again and improve acceleration and deacceleration times.
– Rebuild amp and rebuild crossover, including new tubes. This will minimize hum/noise and improve overal volume, bass response and brilliance. Rebuilding the crossover will restore the original 800Hz crossover frequency in the Leslie speaker. This will bring back definition in your sound and also save your treble driver.
– Installation solid state Trek II relay, which will make quiet speed switching possible. No more mechanical clicks or electronic pops.
Obviously the tonewheel generator has been oiled and everything will operate as it should. Percussion, vibrato, presets, pedals, all tonewheel, all drawbars, just what you'd expect from a real original Hammond tonewheel organ. Original bench and bass pedals are included as well.
This combo can be used on stage or in a studio right away without any hassle. Intendeed for (semi-) professional use! There's a 12 month warranty included with purchase.
Price is €4.499,- 

Can be delivered in Netherlands/Germany/Belgium/Luxembourg and France for an additional fee. Other countries will be freight shipping. Contact us for a quote.
Vintage Instrument Service is thé shop to buy vintage electro mechanical keyboards. Lots of studio's, music schools and keyboard players for bands like Birth of Joy, DeWolff, Candy Dulfer, Di-rect, Doe Maar, Fink, Guus Meeuwis, Jett Rebel, Lachy Doley, Pater Moeskroen, Rowwen Heze, Sven Hammond , The Kik and Wolfmother already came here.